Construction begins on busy 401 stretch
From Link2Build
Construction is now underway on a key stretch of Highway 401 from Mississauga to Milton.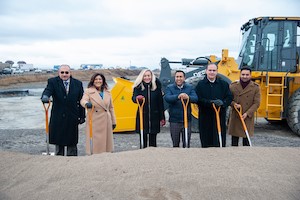 Kinga Surma, Associate Minister of Transportation, announced that the Ontario government has invested $640 million to widen 18 kilometres of the stretch of Highway 401 from the Credit River in Mississauga to Regional Road 25 in Milton. The scope of the project includes reconstruction of bridges as well as upgrades to support facilities and features.
Construction is being performed under a design, build and finance public-private partnership model. West Corridor Constructors was awarded the contract in May, and includes Aecon, Parsons, Amico, Hatch, EXP, and National Bank Financial. The contract includes the construction of two 10-lane segments, two 12-lane core collector systems and median high-occupancy vehicle lanes. The consortium will also be responsible for bridge reconstruction and replacement, structural culvert replacements, drainage and utilities work, as well as ecological restoration.
Construction is expected to conclude by the fourth quarter of 2022.
"Our government is committed to strengthening Ontario's highway network and making Ontario open for business," said Surma. "This crucial expansion of Highway 401 means that thousands of Ontarians will spend less time in traffic and more time on the things that matter to them - being with family, friends or at work."
Approximately 250,000 vehicles travel on Highway 401 in the Peel and Halton regions on a daily basis
Subscribe to this Page