Full speed ahead in 2020 for SW Ontario construction
From Link2Build
The tone was optimistic, the reports were project-heavy, and the mood was positive as the Grand Valley Construction Association (GVCA) hosted its annual Construction Industry Outlook event on November 19 in Kitchener. Eight area municipalities and educational institutions reported on construction plans for the coming year—and in each case, there was a lot to report.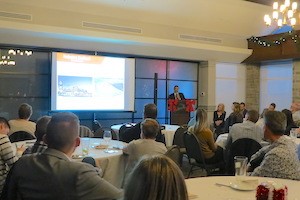 A highlight was the announcement—officially made an hour later at a separate event—of the purchase and redevelopment of a 250,000-square foot Cambridge facility that will be repurposed to house Conestoga College's skilled trades program. There is a poignancy to the story: the plant was the former home of the Erwin Hymer RV plant, which closed in February, putting hundreds out of work. The Conestoga announcement turns the page on the bleakest scenario the community faced this year.
Jacinda Reitsma of Conestoga told the GVCA crowd that the new facility will be, "a state of the art, largest trade centre of any college in Canada." Classes should commence in the new facility in September 2021.
While that was the hot news of the night, reports from the University of Guelph and the University of Waterloo both indicated multiple construction projects planned for the coming year, including a $19-million project at the Ontario Veterinary Complex in Guelph, and a $72-million project still awaiting funding, at Waterloo.
Things will be busy at the Waterloo District School Board, which listed 25 projects in the $200,000 to $1-million range, and another nine that will each top $1 million.
The cities of Waterloo Region all brought promising reports. Cambridge council is expected to approve $51 million in capital projects for 2020; the City of Kitchener reported several multi-million-dollar projects—as well as a total of $900 million in building permits issued to date in 2019; and the City of Waterloo echoed that kind of multi-project projection.
The Region of Waterloo has had "a big year in 2019," according to spokesperson Phil Bauer, and "we expect 2020 to look similar." In the big picture, the Region's construction budget for the next 10 years is $2.5 billion.
The event was sponsored by Cushman & Wakefield of Waterloo Region. Market analyst Chad Vrenjak pointed to significant pressure for commercial and industrial space across the region, adding, "Our region will continue to need more, simply to keep up with demand."
The keynote speaker was Tony LaMantia, CEO of the Waterloo Region Economic Development Corporation, who told the group he expects 2020 to continue the economic growth the region is currently experiencing.
Subscribe to this Page